Is the Destination Wedding Legal?
Sometimes what looks like a wedding might not be one. Don't let your dream wedding turn into a legal nightmare! Follow us to find marital bliss on foreign shores to ensure its all legally binding when you get back home!
In Japan, for instance, religious ceremonies are not considered legal marriages, so if you are married in a religious ceremony there, your wedding will not be recognized as legal in the U.S. unless you also have a civil marriage recorded at the registry office. The opposite is true in Indonesia, which only recognizes religious marriages. In Italy, couples can choose either a civil or a religious ceremony, but those married in a non-Roman Catholic religious ceremony should first be married in a civil ceremony to ensure the legality of the marriage.
A destination wedding is an exciting alternative to a traditional wedding, and an exhilarating way to start your lives together.
You may dream of getting hitched on a Maldives sandbank, but did you know that such a wedding ceremony is not legally binding?
On the other hand, a spur of the moment marriage in a Las Vegas wedding chapel, whilst under the influence of one two many cocktails could be a very costly mistake as you call in the divorce lawyers! So if you are planning to have a destination wedding, check your facts before you fly!
Before you are carried away with plans of an exotic wedding in a far-flung location, do your homework and find out the legal requirements of each country. We take a look at some of the most popular wedding destinations to establish what paperwork or legal requirements you need to complete.
FEW COUNTRIES –
Italy
The Italian law states that civil weddings must be performed in a town hall or a property purchased by the local government only. However, most town halls are located in historical buildings, unique palaces, villa and manor houses, which are charming settings for a wedding. The ceremony lasts around 30 minutes and is conducted in Italian by the Civil Registrar and an interpreter will be provided during the ceremony..
Las Vegas
Las Vegas is a city made for wild weddings: an energetic adult's playground, it boasts some of the most spectacular hotels, shops and restaurants in the world. From formal black-tie affairs to renewing vows in front of a rhinestone-studded Elvis impersonator, more than 122,000 couples obtain marriage licenses each year in Las Vegas, making it the marriage capital of the world. Neither blood tests nor waiting periods are required if you want to tie the knot. The legal age is 18 for both men and women (proof of age is required) and licensing fees are approximately £40. Civil ceremonies can be performed at the Marriage Commissioner's Office at 309 S. 3rd St. Chapel fees vary depending on the services provided. For marriage license information call the Clark County Marriage License Bureau (702) 671-0600, 201. You can get married in Vegas even if you're not a US resident. Most countries require a certified copy of your marriage certificate ($10) and an apostile from the Nevada Secretary of State ($20).
If you do marry in Vegas, go completely mad and stay in ultimate couples' room, the seductive and alluring Erotic Suite at The Palms. From the risqué shadow dancer projection wall to the steamy Show Shower with stripper pole, the highlight of the Erotic Suite is the incredible eight feet round rotating bed with mirrored ceiling above.
France
The French government requires that certain criteria be met before couples marry there. Religious ceremonies are not recognized as legally official in France and it is therefore necessary for both locals and visitors to conduct a civil marriage beforehand. For most couples, a registry office at home followed by a church service or non-religious blessing in France is the best option. If you're marrying in France you may need a Certificate of Custom Law (certificate de coutume) – consult the local Mairie for this. You'll need to send both original and copies of your official documents to the British consulate but allow plenty of time as they will acknowledge the receipt within 20 days and then send your application to the embassy in Paris, who will issue you with a certificate. The certificate will be in French and valid for six months prior to your marriage.
Thailand
Thailand offers a host of unique wedding locations, from a wedding ceremony on the beach or at your chosen resort to a Buddhist Temple.. There are no residency requirements for getting married in Thailand.
Maldives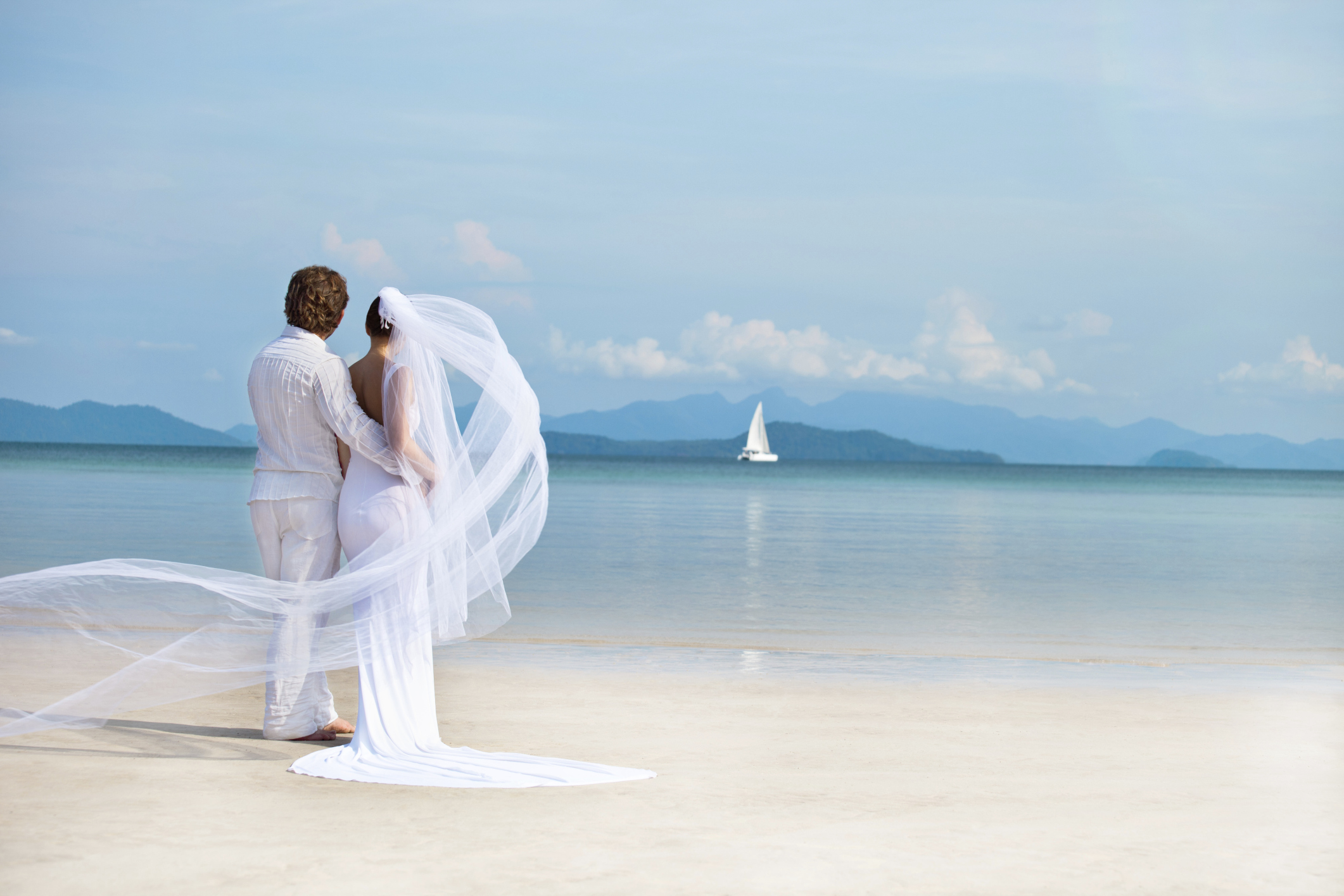 Because the Maldives Family Law does not accommodate marriages of religions other than Islam, it's not possible for visitors to legally marry there. However, the breathtaking scenery and sheer luxury of the resorts in the Maldives makes this area a popular place for exquisite beach blessings and romantic non-religious ceremonies, which can be arranged through your hotel or wedding planner. From unspoilt azure beaches to little sandbank islands, the locations for wedding blessing ceremonies or vow renewals are out of this world. Dazzling underwater coral gardens, turquoise lagoons, luxury cruises and world-class spas are just some heavenly temptations that make celebrities, including Tom Cruise and Katie Holmes, choose the Maldives for their wedding celebrations and honeymoons. The Maldives offers some of the most exclusive accommodation in the world, romantic beachside villas and thatched water bungalows with glass floors overlooking the lagoon with its multitude of colorful fish and coral. The Maldives promises a once-in-a-life-time experience for your big day – even if it's not legally recognized.
For unique weddings in exotic destinations, the world really is your oyster. Each country has its own wedding laws and customs, so to find out exactly what documentation you need to get married overseas, contact the authorities of the relevant country.